Description
Can your client survive a cyber-attack? Learn about the top two cyber claims (using real life examples), how coverage is triggered, and what to look for in a cyber policy. After this seminar, you will be able to effectively communicate why any business should purchase cyber insurance in two minutes or less.
Faculty
---
Travis Whitmill
Vice President
Evolve MGA
Travis joined the Evolve MGA team in May 2017. He recently graduated from Auburn University with his Master's in Business Administration. Travis' attention to detail, superior work ethic, and eagerness to learn are just a few of the building blocks he establishes and upholds in all of his customer relationships. With a strong understanding of his client's business needs, risks and exposures, Travis' calculated preparation and anticipation brings peace of mind to every endeavor he pursues.
---
---
Candace Funsch
Production Underwriter
Candace Funsch joined the Evolve MGA team in February 2018, and graduated cum laude in May 2017 from Florida Atlantic University in Boca Raton, FL. Before joining the Evolve team, Candace worked as a National Account Executive for a government software company, where she quickly discovered her passion for sales. She easily adapted to the infectious energy and drive of the Evolve team. Candace's positive attitude, motivation and eagerness to learn, are complimentary of the new and exciting cyber industry. Outside of work, you will find Candace traveling, hiking, listening to country music, on the beach, or enjoying chips and guac at your nearest Chipotle.
Education: Florida Atlantic University
Major: Marketing
Favorite Bands/Artists: Sam Hunt, Old Dominion & Hunter Hayes
Hometown: Franklin Lakes, New Jersey
---
Dates
Mon, Feb 01, 2021 - 10:00am to 11:53am MST-Arizona
Mon, Mar 01, 2021 - 10:00am to 11:53am MST-Arizona
Mon, Apr 05, 2021 - 09:00am to 10:53am MST-Arizona
Mon, May 03, 2021 - 09:00am to 10:53am MST-Arizona
Mon, Jun 07, 2021 - 09:00am to 10:53am MST-Arizona
Mon, Jul 05, 2021 - 09:00am to 10:53am MST-Arizona
Mon, Aug 02, 2021 - 09:00am to 10:53am MST-Arizona
Thu, Sep 30, 2021 - 09:00am to 10:53am MST-Arizona
Mon, Oct 04, 2021 - 09:00am to 10:53am MST-Arizona
Mon, Nov 01, 2021 - 09:00am to 10:53am MST-Arizona
Mon, Dec 06, 2021 - 10:00am to 11:53am MST-Arizona
State Specific Details
State Approval Information Details
AZ - This course is approved for 2 CE Credit Hours - Course #106074
WI - This course is approved for 2 CE Credit Hours - Course # 6000080511
FL -This course has Been approved by the Department of Financial Services for insurance continuing education credit - 2 hours Course ID# 111094, Gneral Lines (Property & Casualty)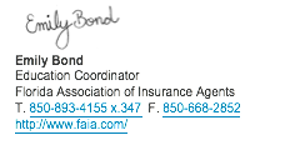 Reviews
Overall:
4.5
Total Reviews: 20